[easy-share buttons="facebook,twitter,google,mail" counters=1 native="no"]
KURDISTAN SAVE THE CHILDREN APPEAL
[sdonations]1[/sdonations]
The current crisis in Iraq has a led to a huge humanitarian calamity with now an estimated 2 million IDP's (internally displaced people) and refugees currently being housed in South Kurdistan. This growing figure is not only stemming from internal sectarian tensions in Iraq, but also the crisis in Syria which has seen the KRG receive large numbers of Syrian refugees.
Kurdistan Save the Children (KSC) is a children's charity but we are appealing for the well-being of all people, including targets of religious cleansing campaigns such as the Kurdish Yazidis and Assyrian's – hundreds of thousands of whom have fled in fear of their lives at the hands of Islamic state terrorists ISIS.
In our 23 year history, we have been committed to aiding victims of genocide/wars in areas such as Halabja, Qaladze, Bazyan, Cham Chamal, Penjwin and Duhok. KSC has provided a humanitarian aid to those in need regardless of ethnicity or religion. We are dedicated to improving the lives of those in need and to fight for their rights to a better future.
What is occurring currently in Iraq and the Kurdish region is beyond comprehension. The dire humanitarian conditions have seen thousands of stranded children and adults eating leaves in the Shingal mountains to remain alive, hundreds of Christian families sleeping on the bare floors of churches and thousands of children left orphaned after witnessing the execution of their parents.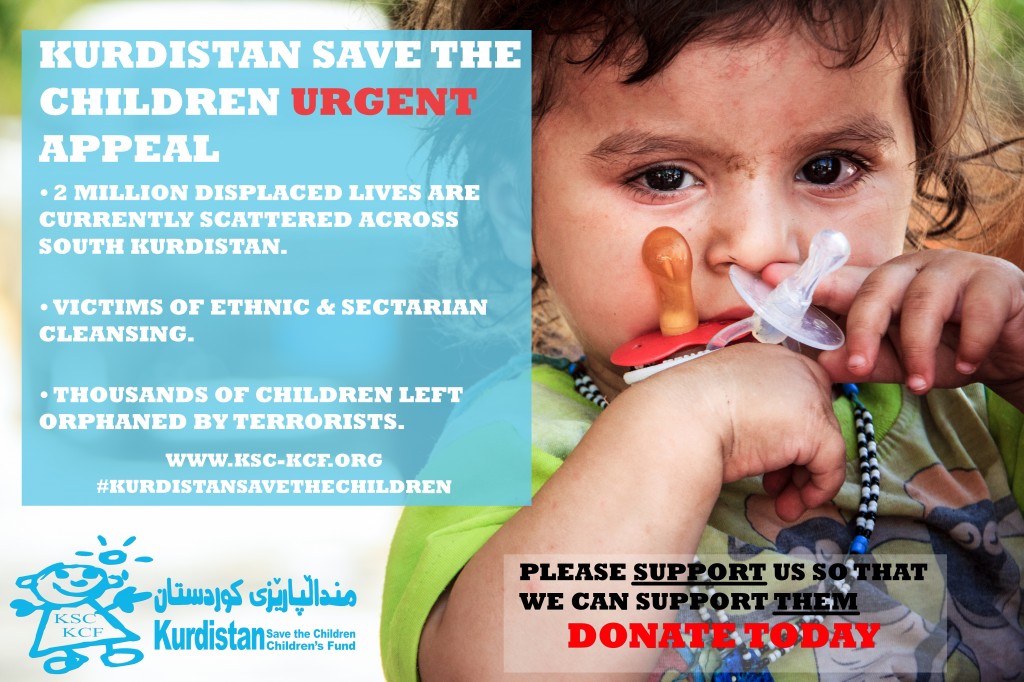 Since the beginning of August 2014, KSC has engaged in an intensive campaign of setting up donation and collection points across the region. The results of such points have allowed us to distribute daily to the urgent requirements of aid relief in the region. Through the kind support of the communities in the Kurdish region, we have been able to distribute crucial assistance to the displaced by delivering thousands of bottled drinking water, clothing, toys, tinned food items, powdered baby milk and bread; such distributions were delivered to Christians, Shabak and PKK IDP's in Makhmour camp, Hawler, Lalesh (Shingal), Duhok, Ranya, Qaladze, Dukan, Kirkuk, Kalar, Xanaqin and Halabja camps. In addition, KSC has also sent out multiple mobile medical teams carry out health checks on IDP's and refugees.
Whilst we are catering daily for the current influx of victims of genocide and sectarian tension, we are also still ensuring that the well-being of our previous IDP's and refugees in the Kurdish region are maintained and still well provided for.
At Kurdistan Save the Children, we are a non-profit, non-political and non-sectarian organisation that is providing as much as it can to a growing and desperate crisis that is sweeping Iraq and Kurdistan. We are urgently increasing our response given the magnitude of what is happening, with your support we aim to reach thousands more with food, water, clothing, medical treatment and shelter.
HOW YOU CAN HELP
No matter how near or far you are from the crisis, you can help us help them. Click the PayPal button right now and make a kind donation! No matter how big or small, your donations make a difference!
 [sdonations]1[/sdonations]
Thank you for supporting Kurdistan Save the Children Charity.
Please visit our site www.ksc-kcf.org for further news of donations being distributed and to also sponsor a child in South Kurdistan!
For further updates and photos please support us on www.facebook.com/mndalparezy or www.twitter.com/ksc_kcf
Thank you.
Gallery of Kurdistan Save the Children Charity's work
[easy-share buttons="facebook,twitter,google,mail" counters=1 native="no"]