It was a summer to dwarf all summers in the complicated world which is football. To put thing into perspective, £600 million was spent in the Premier League alone with millions more spent all over Europe, as teams scrambled on deadline day to acquire the best players to improve their rosters. For some it was a great summer of spending but more could be said for others.
One of the clubs that was worse off was Manchester United. As hard it is to believe, the red devils struggled throughout the window to sign their transfer targets with failed attempts at Cesc Fabregas, Fabio Coentrao and Leighton Baines and with an average start to the season pressure was on moyes to make a marquee signing and it came in the shape of Fellaini . In the dying seconds of deadline day, Everton agreed the £27.5 million bid for Marouane Fellaini. The Everton centre midfielder was undoubtedly one of Everton's stars in the past few years. With a keen eye for goal and passing skills to match, he will be a key player in the Manchester midfield.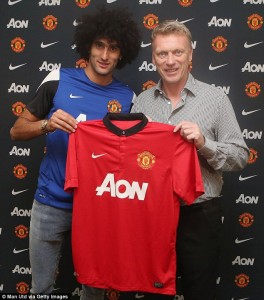 But Manchester wasn't the only club to struggle to sign players, Arsenal also struggled to sign their targets and with money to spend and time running out, fans were fed up with Wenger. It seemed that Luis Suarez was set to join the Gunners but Liverpool's strong stance proved too difficult for Arsenal to get round.  When deadline day came, Arsenal were left scrambling to sign players. With a failed bid for a Real Madrid triple in Benzema, Di Maria and Ozil, Arsenal decided to sign at least one. And it seemed Mesut Ozil, 24, was the man for the Gunners, with a club record bid of €47 million agreed. Ozil is a German international who has scored 14 goals for Germany and 19 goals for Los Blancos. Ozil is a playmaker with incredible passing skills, exactly what the Gunners need.
But not all clubs struggled to sign players, Liverpool have sign eight players this window with two of the eight on loan. Victor Moses, Tiago Illori and Mamadou Sakho will join earlier transfer singings Simon Mingolet, Iago Aspas, Luis Alberto, Kolo Toure and Aly Cissokho. After offloading Andy Carroll and Stewart Downing, Liverpool needed attacking options and they have certainly filled that but are they better that the players of before? And with centre defensive shortages, the likes of Toure, Sakho and Illori should bring a well needed spectrum to the reds defence.
Manchester city have also had a great transfer window signing great talents from all over Europe. With the likes of Jesus Navas, Fernandinho, Alvaro Negredo, Stevan Jovetic and Martin Demichelis. Pellegrini has gotten rid of the troublemakers and brought in quality attacking options with a fantastic centre back in Demichelis. Now only time will tell whether the signings will brink glory back to the Etihad.
But Tottenham have undoubtedly been the best signing club of the summer, after selling Bale, Huddlestone, Dempsey, Parker and Caulker the Spurs began their rampage on the transfer market, signing the likes of Soldado, Eriksen, Paulinho and Lamela to name a few. But a third round loss to Arsenal has some critics guessing whether the Spurs have signed well. But many others believe that the signings will bring silver to White Hart Lane.
The messiah has returned, 2007 Ballon d'Or winner Kaka has made his return to AC milan after a frustrating four years at the Bernebau. Kaka joined Real Madrid in 2009 for €70 million on a six year deal. But ever since he join Real Madrid, he has lost the sparkle which made him the best in 2007, kaka has been second best at Madrid for some time and it seemed he has had enough, and the Rossoneri were happy for Kaka to return to the San Siro were he once was king. Kaka is now 31 and many believe that his best years have passed him by, but Milan fans won't have a bar of it and are adamant that Kaka will return to his former glory.
This summer window has been dominated by one name and one name only. Gareth Bale, 24. Has finally completed his long desired move to Real Madrid after tough negotiations between Daniel Levy and Florentino Perez. Real Madrid will pay the €100 million in three or four instalments. That's right €100 million ladies and gents.  Which makes the Gareth Bale transfer the biggest to date. And if that's not enough, it's rumoured that Gareth Bale will receive £300,000 per week, making him one of the highest paid players in the world. But whether Bale will bring silverware to Los Blancos is up in the air but Perez is willing to take the risk.
It's hard to sum up the transfer window, but I will say this, it should make for an interesting season.